Welcome to the incredible world of comic books!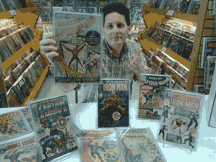 When it comes to comic books, Galactic Quest is Gwinnett's best source for new and classic stories. With 24 years experience, we have bought and sold most every comic on the market. Come discover why so many readers call Galactic Quest home.


Galaxy of Heroes Tour - 2015

Kyle Puttkammer is the creator of 2 all ages comic titles.
Galaxy Man and Hero Cats. He will be appearing at numberous libraries, schools, and conventions throughout the year. These books are available for purchase at Galactic Quest, online (below) and at many comic shops nation wide.

Update: Action Lab Entertainment has picked up Hero Cats for publication and the series ow releases nationally every other month
since August of 2014.
Be the Hero (Cat) this Holiday Season!
Hero Cat hats on sale now!
(Rocco currently sold. Will be restocked in January.)
Visit the Hero Cats online!
Galaxy Man #1-#4 are available for purchase through the
Galaxy Man website and Diamond Comics Distributors.