Free comic books in Gwinnett this weekend


Kyle Puttkammer of Galactic Quest, a comic book store in Lawrenceville, displays the free comic books he's planning to give away on Saturday which is Free Comic Book Day.

By REBECCA McCARTHY
The Atlanta Journal-Constitution
Published on: 05/01/08
Zap! Bam! Pow! Retreat, recession. Flee, inflation.
Free comic books are here!
Gwinnett County comic book retailers will be giving away thousands of comic books on Saturday. All you need to do is ask, says Kyle Puttkammer, owner of Galactic Quest shops in Buford and Lawrenceville.
Free Comic Book Day is a national event, during which more than 2 million comic books will be given away by participating stores. The publishers have discounted the comics to the stores for the giveaway.
"We really want people who've never been in the store to come in with their children," Puttkammer said. "We're a family friendly store and can direct shoppers to appropriate comics. It's up to them what they buy."
Galactic Quest has been in business for 17 years. The Lawrenceville store recently moved to a new location on Pike Street. It has room enough for thousands of comic books, plus tables where budding artists meet to work on comics, including Galaxy Man, Puttkammer's creation.
With the Ironman movie opening on Friday, Galactic Quest has magazines, action figures and a large cutout of the red and gold Avenger throughout the store.
The Pike Street store will be open on Saturday from 11 a.m. until 7 p.m. The Batmobile and a costumed Spiderman will also attend, as will local comic book artists Fred Torres and Sean Taylor.
---

Store owner shares passion for comics through exhibit
By Rachael Mason Staff Writer rachael.mason@gwinnettdailypost.com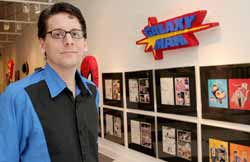 Kyle Puttkammer lives in an alternate universe where superheroes reign. As the owner of two Gwinnett comic book shops, he's constantly immersed in a world of larger-than-life adventures.

Puttkammer, who has loved reading comics since he was a boy, is more than a comic salesman, however. He's also the creator of two new superheroes — Galaxy Man and Cosmic Girl. They are the stars of a new exhibit at the Children's Arts Museum in Duluth. "A Galaxy of Heroes" will be on display through Sept. 2 at the museum, which is part of the Jacqueline C. Hudgens Center for the Arts. The exhibit not only introduces Galaxy Man and Cosmic Girl, but also features original paintings, drawings and sculptures of iconic comic book heroes such as Batman, Superman, Spiderman and Wonder Woman. "The parents have just as much fun with this as the kids," said Nancy Gullickson, executive director of the Gwinnett Council for the Arts, which runs the Hudgens Center.
Foam sculptures of Galaxy Man and Cosmic Girl stand in the middle of the gallery at the Children's Art Museum. These sculptures, which were created by artist Eddie Wright, also ap pear in the drawing on the cover of issue No. 1 of "Galaxy Man." The comic was produced by Puttkammer and a team of local artists and writers. "In creating the comic book, we really put the time into the pages and the story," Puttkammer said.
Galaxy Man's secret identity is Stanley Quest, an astronomer who lives in Stellar City with his daughter, Suzie. What he doesn't know, though, is that Suzie is also the superhero Cosmic Girl. Quest's wife, an astronaut, has been missing since she went on a mission to Mars. As Galaxy Man, Quest hopes to one day find his wife. Each Galaxy Man story will end with a moral lesson. "As parents, we want to send the right messages to kids," Puttkammer said. In the first book, Galaxy Man battles the evil doctor Ross Rex, who brings dinosaur bones to life in a museum. "In the first issue, the message is that violence doesn't solve anything," Puttkammer said.
A limited-edition run of 250 copies of the Galaxy Man comic was printed by the Hudgens Center. The book is available at the museum gift shop, as well as at Puttkammer's two Galactic Quest comic book stores, which are located in Lawrenceville and Buford. Puttkammer plans to continue the Galaxy Man series. Preliminary drawings for issue two are already complete. The next book will follow Galaxy Man to outer space, where he meets a space monster. Though Galaxy Man comics are only being sold locally at the moment, Puttkammer dreams of bringing the superhero to readers across the country.
"We will go national with the comic when I feel like we've got enough material for six months," he said. In fact, he's already planning to expand the comics with toy and game product tie-ins. Already, a Galaxy Man coloring book and an activity book, which includes cut-outs of all the characters, are available. But no matter how famous Galaxy Man becomes, the comics will remain family friendly. "I'm creating what I'd like to see and what I'd like to sell," Puttkammer said.

If you go What: "A Galaxy of Heroes"
When: Now through Sept. 2. The museum hours are from 1 to 5 p.m.
Tuesday through Friday and from 10 a.m. to 3 p.m. Saturday.
Where: Children's Arts Museum at the Jacqueline C. Hudgens Center for the Arts, 6400 Sugarloaf Parkway in Duluth Cost:
Admission is $5.
Info: Call 770-623-6002 or visit www.artsgwinnett.com or www.galacticquest.com.
Please visit http://gwinnettdailypost.com :: gwinnettdailypost.com.
---
Comic relief?

Batman old news? Spidey getting stale? Just learn how to create new superheroes

By JON WATERHOUSE
For AJC Gwinnett News
Published on: 01/20/05

Kyle Puttkammer, owner of Galactic Quest comic shops in Buford and Lawrenceville, is interactive about his geekdom. This is the guy who gave his car a Spider-Man-inspired paint job and hosts 24-hour marathon gaming tournaments at his stores.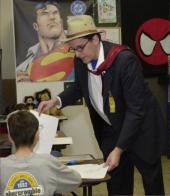 And when it comes to comics, he doesn't just encourage customers to buy them. He wants his readers to draw them, too.

Tuesdays at 6 p.m., Galactic Quest in Buford hosts comic art classes. Wannabe cartoonists huddle together and learn the basics, like how to draw a human head and putting a character in action. It's Puttkammer, an artist in his own right, who heads the class, teaching his students the power of the pen.
The classes aren't confined to Puttkammer's comic shop. He has been making his rounds at select Gwinnett County libraries for a series of free classes. On Jan. 27, Puttkammer stops at Suwanee Library. He'll visit six others, including Collins Hill, Lawrenceville and Mountain Park, through April.
Comic books is a male medium, stereotypically, but 30 percent of the Galactic Quest art class is female. An average of 10 to 12 students attend each week at his shop. Most of Puttkammer's students fall into the 10- to 15-year-old age range.
"At that age, they've already decided if they're going to be productive and creative," Puttkammer says. "And working on art projects says a lot about their character."
The class curriculum varies, and Puttkammer keeps things basic enough so each lesson is acceptable for first-timers. Students pay by the class, which is $5 for each one-hour session, so they can come as much or as little as they want.
The first 15 minutes of a typical class finds each student going over the art he or she has completed since the last class, and it's opened up for critique. Next, Puttkammer spends 15 to 20 minutes giving the class direction and working on goals. The rest of the time is spent going over a particular assignment. A recent topic was how to bring life to comic book baddies like the Joker and Doctor Doom.
For 15-year-old Shannon Roper, a home schooled student from Flowery Branch, the drawing class is her weekly art fix. Roper says Puttkammer's class differs from the typical art classes in schools because it's more hands-on.
"We get to sketch more than the teacher talks," says Roper, a fan of Japanese comics. "And I like the fact he gives us positive directions and tells us where we need to go with our art."
Students also get firsthand insights into the comic book production process. Puttkammer, along with fellow artist Allen Belk and writer Patrick Gallagher, are working to create an original comic titled "Galaxy Man." As Puttkammer and his cohorts approach each step of comic creation, from rough sketches to inking to shading, he's able to share the evolution of the "Galaxy Man" project with the class.
Puttkammer, who studied at the Milwaukee Institute of Art and Design and the Art Institute of Atlanta, often is approached by clients looking for artwork, ranging from logo design and illustration to mural paintings. To help pass on some experience, he sometimes recruits his top students to lend a hand or take on a project themselves.
"My idea is to get students in the mind-set that they can achieve their goals," Puttkammer said, "and give them an inspirational starting point for what they want to do in the future."
---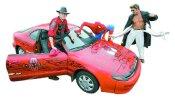 Comic book store owner celebrates superheroes
By Rachael Mason Staff Writer rachael.mason@gwinnettdailypost.com

Kyle Puttkammer, left, stands beside his "Spider-Man" car in front of his Lawrenceville comic book store. Two of Puttkammer's friends pose as Spider-Man and Doc Ock.

Somewhere high above the earth, Galaxy Man flies through space, searching for his lost wife. She disappeared while exploring Mars on the same day a meteor hit Stellar City and gave her husband, astronomer Stanley Quest, super powers. Blinded by grief, Galaxy Man doesn't realize that Cosmic Girl, who accompanies him on search missions, is his daughter Suzy.

Welcome to the universe of Kyle Puttkammer. It's a place where heroes rule and secret identities are the norm. Batman, Superman and Spider-Man coexist peacefully here and sometimes they can even be found side by side.

But don't look for Galaxy Man on the shelves of Puttkammer's Galactic Quest comic book stores yet. Puttkammer, 36, is still working on the first Galaxy Man comic, along with Patrick Gallagher and Allen Belk. The three have already started selling Galaxy Man drawings at comic book conventions, but they're still working on the details of their superhero's story.

Meanwhile, back at his Lawrenceville headquarters, Puttkammer, who also owns a store in Buford, is working hard to sell other comic books. He is evangelical in his devotion for the art form. "Comics are an American art form that we created," Puttkammer said. "There is at least one comic for everyone out there."

When he was 9, he started out reading a Spider-Man comic. At age 10, he became a fan of Star Wars comics. He came to Georgia at age 22 because his sister lived here. He started selling comics part time in Lawrenceville while working at a convenience store.

His hobby soon grew into a full-time business. Puttkammer even met his wife Cynthia at his comic book shop. The two have been married for a decade and have two daughters, Anna, 3, and Andrea, who will turn 6 on Monday.

With the release of the "Spider-Man 2" movie, this week has been particularly exciting for the comic book shop owner. On Wednesday, Puttkammer bought tickets for an entire screening of "Spider-Man 2" so that he and his customers (who paid him back for the tickets) could watch the movie together. "That movie is everything I love comic books for," he said.

He recruited two friends who appeared as Spider-Man and the movie's villain, Doc Ock, at Discover Mills. Puttkammer has been known to pull on a Spidey suit himself and especially enjoys visiting his daughters' school in costume. He also drives a red Toyota Celica decorated with Spider-Man webs and wears a red-and-black sports-style jersey that depicts Spider-Man.

Today is an especially exciting day at Galactic Quest. First of all, it's free comic book day, so every customer who comes into the store will receive a comic. Then, this afternoon, Spider-Man artist Mark Brooks will visit the Lawrenceville store. Brooks draws the character for comics like "Marvel Age: Spider-Man" and "Amazing Fantasy."

Puttkammer couldn't be happier about seeing Brooks again. The two first met at a comic book convention. "Mark Brooks is living the dream. He draws comic books for a living," Puttkammer said.

Still, even if Galaxy Man takes off, Puttkammer is not prepared to give up his comic book shops to become a full-time artist. Producing comics will have to remain a hobby, because Puttkammer has already found his calling. He sells comic books.

---

Hooked on comics
Store owner teaching art of creating, selling original characters

Rebecca McCarthy - Staff
Friday, April 23, 2004

For Kyle Puttkammer, comic books are serious business.

As the owner of two Galactic Quest comic book stores in Gwinnett, Puttkammer, 36, watches the bottom line and knows how to move merchandise --- lots of it. His wife and business partner, Cynthia, is equally astute.

In their Lawrenceville and Buford stores, shelves and counters are crowded with comic books, both vintage and current; action figures from various decades; books for role-playing games like Dungeons and Dragons; collectible card games like Magic, Pokemon, Yu Gi Oh and Dualmasters; and fantasy costumes.

These are linger-for-hours kinds of places for anyone who ever fantasized about having super strength, the ability to fly or a spider's sense of danger.

But Puttkammer seems almost as intent on making friends as on making money. He's been trading with some customers since he opened his first comic book business in a flea market 13 years ago. Kids, teenagers, adults, older people, they all come in, and most of them come back.

Puttkammer sits behind the counter of the brightly lit Lawrenceville store, located in a Publix shopping center, and greets everyone who walks inside, offering to help if assistance is needed. Someone may call wanting to unload a childhood comics collection or to find out when and where a weekly gaming tournament occurs.

When 10-year-old Sam Marshall, a "Star Wars" buff, wandered into the store to buy his first "Star Wars" comic, Puttkammer quizzed him on movie trivia, specifically the odds of successfully navigating an asteroid field. Sam answered correctly: 3,720 to one.

When bearded Brian Little bragged about his custom-designed deck of Dualmasters playing cards, Puttkammer cleared a counter, shuffled his own cards and settled in for a game. He won.

"I get to do this every day for a living!" he said with a smile. "It's great!"

It certainly beats the first job he had when he moved from Milwaukee to Atlanta 15 years ago: working in a convenience store.

While Puttkammer clearly enjoys all the stuff in his stores, his first love remains comic books.

"The toys are cool, the games are cool, but I just love comic books. Superman is the No. 1 most recognized fictional character in the world," he said. "People know him as well as they know Santa Claus."

Puttkammer collects comic books. He studies comic books. He sponsors 24-hour draw-a-thons whose end result is an individualized comic book.

He has even come up with his own character, Galaxy Man, who soon will appear in a self-published comic book. And now he is teaching people how to create their own comics. Again. After an eight-year hiatus, Puttkammer has returned to the classroom, taking on about 15 students at the Buford store. They will meet there every Tuesday night for the next several weeks.

"My daughter Andrea asked me if I could paint," Puttkammer said. "So I've started painting with my daughters and I found that it's a lot of fun. I realized that I could have fun and share with people some of the business acumen I've developed over the past eight years."

One of those enrolled in the class is Lawrenceville resident Mac King, 41, who is retired from the Navy. He decided to accompany his soon-to-be-stepson, Tyler Shope, to the class so that the 9-year-old would feel more comfortable. Comic books have helped them bond --- Tyler's bedtime stories usually involve Marvel Comics' Wolverine character, King said.

"Kyle did a really good job of talking about the history of comic books and why it is that some people just have to draw them,"

King said. "It's certainly not as easy as everyone says it is. If you think you're going to have the next big thing, you better think otherwise, because it takes years of practice."

King said he used to sketch and doodle while he was at sea, adding that he also used to read comic books. "Reading and working out, that's about all there is to do," he said. "Reading comic books sure as heck helped pass the time."

He has amassed a personal collection of comics dating to the 1960s, when he became a Superman fan, said King, who now works for Comcast. Each issue is encased in protective wrap, "and they're all hermetically sealed," he said. "I'm going to leave the collection to my kids."

Another student, Marcus Kellum, works as a landscape architect for the city of Duluth. He joined the class "to have an open forum to come to, without restrictions, and just to draw with people of different ages."

A graduate of the Fashion Institute of Technology in New York City, Kellum, 33, said the class teaches the basics of comic book drawing, character development and page layout. He plans to continue attending.

Puttkammer wants the class to learn not only the process of creating a comic book, but also the mechanics for marketing and packaging it.

"It's an incredible amount of fun," he said. "I was inspired by the people in the class. I'm looking forward to seeing what this time around brings."

---
Comic book geeks star in this galaxy

WHY IT'S COOL: It's a home away from home for comic book geeks and gamers. Windows of its Buford store, painted with images of Superman and other characters, call out to the ridiculed masses. New and old comics, rare toys, character T-shirts, collectible card games, superhero busts and other fan necessities are sold inside. Looking for a Conan the Barbarian figure from 1992 or a Batman bowling shirt? Not to worry. Life-size models of Yoda, Spider-Man and The Tick stand guard as shoppers browse the aisles. And tables offer space for gamers to roll dice or duel at cards.

PROMO-MAN: Owner Kyle Puttkammer, who opened his first store in Lawrenceville 12 years ago, is the P.T. Barnum of the local comics and collectibles scene.

In 1999, with the hype of the first "Star Wars" prequel at a fevered pitch, Puttkammer suited up in jedi regalia, becoming the "Star Wars" correspondent for WAGA-TV Fox 5 and Star 94 FM. When "Spider-Man" swung in to break box-office records in 2002, he parked his Spider-mobile (a '91 Toyota Celica with a Spider-Man paint job) in front of his store. And at a recent private screening of "The Hulk" for Galactic Quest customers, Puttkammer introduced the film dressed as the Hulk's alter ego, Dr. Bruce Banner. After losing his cool to a heckler in the audience, he hulked up, re-emerging with torn clothes.

With its Buford store in its fifth year and the Lawrenceville location in a new high-volume Publix shopping center, Puttkammer is always brainstorming another promotion.

TREND MASTERS: The ebb and flow of trends in the comics, gaming and sci-fi industries can be a challenge. Knowing what to sell and when is always an issue. "Star Wars" dominated for a while, but the torch has been passed to superhero movies. Pokémon was hot, now it's Yu-Gi-Oh. "As far as trends go," Puttkammer said, "we've been able to get in at the right time and out at the right time. It's been a blessing."

GAME BOYS: Weekly gaming tournaments take place at Galactic Quest, with Friday and Saturday nights being the most popular. In the past, the Buford store has done 32-hour gaming marathons for serious players of "Magic," "Lord of the Rings," "Hero Clix" and other popular games. On July 11, Galactic Quest-Buford plans to stay open until 3 a.m. for die-hards. Gamers are welcome anytime for impromptu competitions. Some local teens, including 18-year-old Nick McCullar, hang out with friends at the Buford store two to three days each week. "It's like being in a cult without killing people," McCullar said with a laugh.

COMIC RELIEF: Galactic Quest's added attractions, such as gaming marathons, movie tie-ins and imaginative promotions, keep Puttkammer happy. "It's really satisfying seeing my creative efforts rewarded in a way that allows me to support my family with something as underestimated as comic books," he said. -- Jon Waterhouse
---

January 2000
Decipher's on-line poll of gamer's favorite store.
Winner - Galactic Quest in Buford!

---
October 21, 2000
Comic Book Store
Readers' Choice Winner. Best in Gwinnett 2000
Gwinnett Loafing
A geek's dream. Need a Spider-man vol.1 No. 13 (and who doesn't)? Then Galactic Quest is the place for you. Just walking in transports you back to childhood and that's not a bad place to be.

---

The following article was featured in the Gwinnett Daily Post - Thursday June 29th, 2000

STAR WARRIOR

GALACTIC QUEST OWNER PLAYS COLLECTIBLE CARD GAME AT THIS YEARS DRAGON CON

By Laura Ingram
staff writer

LAWRENCEVILLE - Imagine battling Darth Vader or Jabba the Hut from the Star Wars universe. Lawrenceville resident Kyle Puttkammer takes them all on, but not in his imagination. Puttkammer, 32, slices through Darth Vader using Luke Skywalker's or Obi-Wan's lightsaber or overpowers Jabba the Hut with Ewoks in the collectible card game Star Wars.

"It's a lot of fun to compete," Puttkammer said. First, he selects a deck of 60 cards to use against his opponent. That takes him about an hour because he has collected all 1,500 of the Star Wars cards.
Then, using the directions listed on each card under a picture of the
individual, such as Luke's Uncle Owen, or another part of the Star Wars Universe, he can stage a land battle on Tattoine or space battles near the Death Star.

"It's just as competitive as a good game of chess," Puttkammer said.
Last year, Puttkammer opened a sealed deck and played the best games of his life at the world's largest science fiction and fantasy convention called Dragon Con. He still gets a satisfied smile just thinking of the thrill. His deck contained key cards, and Puttkammer knew how to use them well enough so he won four consecutive games. He believes he would have won the tournament if he stayed to finish the tournament.

"It was getting late so I had to go home to wife," Puttkammer said.
Puttkammer plans to play card games again at this year's Dragon Con Thursday to Sunday at the Hyatt Regency Atlanta, the Atlanta Apparel Mart and the Atlanta Merchandise Mart, but not too many because he will be selling comics and Star Wars collectibles at two booths to represent his Galactic Quest stores in Lawrenceville and Buford.

Dragon Con involves more than just merchandise from science fiction and fantasy. The convention also includes horror, comics, art shows, games, costume contests, lectures, animation, science, music, television and films. Well-known writers, artists, and actors also come to the convention, including David Prowse, Jeremy Bulloch, David Carradine, Ted Raimi, Brad Dourif, Terry Brooks and Kevin J. Anderson. For more details, check out www.dragoncon.com or call 770-909-0115.

"It's a good time for adults," Puttkammer said. What Puttkammer likes about the card gaming is that games can run from 10 minutes to hours. What Puttkammer likes about Star Wars card gaming is Star Wars. "Everybody can relate to Star Wars," Puttkammer said. "It brings me back to simpler times."

Puttkammer saw the first movie in the theater when he was 10 years old. "It was just this huge adventure. It inspired me to draw comic books," said Puttkammer. The Star Wars universe also inspired Puttkammer to start his business. He began with $300 worth of Star Wars merchandise and $300 in cash. He sold at flea markets on the weekends for a year and then opened up a store in Lawrenceville to sell comics, figurines, posters and collectible cards. Puttkammer hopes to expand his own collection at Dragon Con next week when
the next set of Star Wars collectible cards, "Death Star II," is released.

Then, he can battle the Emperor who will make his first appearance in the cards.
---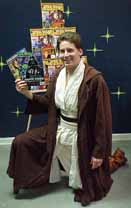 GALACTIC QUEST WINS STAR WARS INSIDER DISPLAY CONTEST!
From Diamond Dialog July 1999 -
Galactic Quest of Lawrenceville, Ga used the Force's wide-reaching powers to artfully create an all out media campaign promoting Star Wars Insider magazine and Star Wars Episode I the phantom Menace, making it the Grand Prize winner of the Diamond and Star Wars Insider's Star Wars display Contest.
Sending in advertising clips, a video depicting its advertising campaign, and numerous photos, Galactic Quest impressed judges with an extra-ordinary media onslaught that effectively endorsed Star Wars Insider magazine to new readers.
As the Grand Prize winner, the store will receive a beautiful bust of the Star Wars saga's best -known and most feared bounty hunter, Boba Fett - a collectible treasure.
---- Galactic Quest also took second place in the Dark Horse Star Wars Display contest. (Contest rules dictated that the same store could not win both contests)