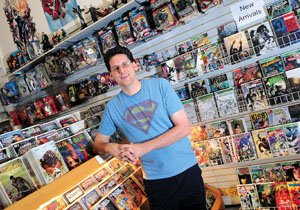 You'll find the largest selection of comics at Galactic Quest.
Our stores are friendly to comic readers and collectors of all ages and whether your new or a long-time collector:
New

readers

- if you aren't sure what's good, just ask! Especially when it comes to new indie books you should be reading.
Long time collectors - Silver Age, modern, you name it, we've got you covered!

Kids

- Parents are encouraged to bring the family in to check out our newly expanded all-ages section. We recommend kidscomics.com for parents.
If you're looking for what new this week, check out the new comics listing from Diamond New Comics Release List or use the list below.
COMIC SUBSCRIPTION SERVICE

Galactic Quest offers the best free subscription service around!
Want to start a subscription?
Download this form and bring it into either story or email it to Jami (Lawrenceville) or Sean (Buford).


All comics are bagged & back boarded.
All comics must be purchased within 30 days. After two months, any current subscriptions will be cancelled.
Your subscription discount is valid at both stores.
Monthly subscriber discounts are:
10 titles = 10%
25 titles = 15%
35+ titles = 20%
We've been selling comics for almost 20 years and have read them all.
All our back issues are currently 50% until the government fixes the economy.
So, like... it'll be a while.
SPECIAL ORDERS

Looking for that special item? Perhaps something we don't normally carry? Just ask and we will be glad to try and locate anything you are looking for.
Previews
is an excellent source for what's coming out in the months ahead.

Are you moving or going to college? Can't make it to the shops this month? We can help!
Simply call the shops and ask us to set up regular shipping arrangements.